Alright, let's just say... Jenna almost made me cry last night.
I went to go see Wicked in Hartford, and I've known for a while that Jenna would be going on as Elphie. So I was excited. She was AMAZING, I DID cry last night, and, ugh. It was beyond amazing.
After the show, I go to the stage door, waiting. La la la... Emily Rozek's family (I'm guessing... some people looked a LOT like her. She went on as Galidna last night) and Paul Slade Smith's family were there, too, but they went in and got a tour and stuff... So my dad and I are standing outside... The bouncer starts talking to us, and after a while (my dad and I were the ONLY people there, my mom was back in the car) Emily comes out w/ her group, and we take a picture, and right behind her, as in, I couldn't see her, was Jenna... Emily moved out of the way, and Jenna's right there! She was so great! We talked for a bit, and she was so sweet and GUH I love her! But, hey! Who here doesn't? So she signs my Playbill (or, as we call it, The Prompter) and then we pose for a picture. BUT THAT'S NOT ALL!
So after Jenna leaves, we wait a bit to see if David and Derrick come out... But the bouncers both went in, and my mom was cold and my dad was cold, so we walked back to the car. There are 2 parking lots, and we parked in the 2nd, and so as we passed the first, a car was pulling out. And there was a girl in a white coat. HMMM I WONDER WHO THAT WAS. So Jenna looks out her window, sees me, and waves to me! AHH! It killed me just a little. :o) That pretty much made my night, that one little act. :o)
SO... here are some pictures that make me VERY happy... I'm only posting my Jenna-related ones because, let's face it, this is a JLG community.
Jenna signing my Playbill... :o) She's so cute!
POSE! :o) i LOVE her. have i told you this is one of my favorite pictures EVER?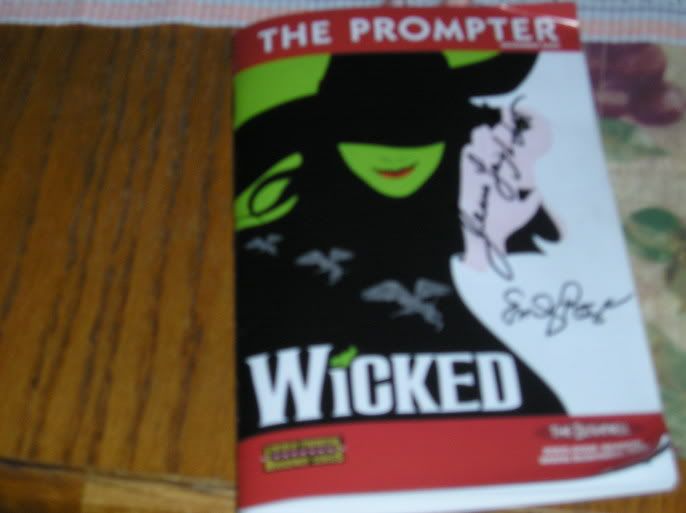 my playbill. unfortunately, the only leads i saw come out were jenna and emily, so they signed it... carol came out, bundled up, and i didn't feel like bothering her too much, so i let her shuffle over to her car.
one thing i forgot to do was give jenna the bracelet i made her. so what i'm planning on doing is sending it to her in the mail, along with a letter and our picture. my dad is taking me to rush wicked on the 18th, so i can see jenna as nessa, stephanie as elphie, and kendra as galinda. so i'll make sure jenna gets her bracelet.